More than 40 years experience in the sewing machine world!
Maintenance & repair
🔧
You can contact our family business for the maintenance & repair of your sewing machine.
For proper operation, it is important that you have your sewing machine serviced in time.
We have our own technical service that can maintain or repair your sewing machine in our repair workshop as well as on site.
We also have a large stock of spare parts.
This allows us to bring and maintain your machine park in perfect condition.
Already 3 generations provide excellent after-sales service.
JUKI NO.1 sewing machine manufacturer in the world 
In the field of industrial ready-made sewing machines, we rely in the Japanese brand JUKI.
It is one of the leading brands in industrial sewing machines.
The company that makes Juki sewing machines is the Juki corporation.
They produce household and industrial sewing machines and are even the number one and leading manufacturer of sewing machines.
The Juki headquarter is in Tokyo, Japan, but the manufacturer also has operations in China and Vietnam.
Did you know that… Juki was founded in 1938 and since 1945 Juki has been the largest producer of industrial sewing and lock machines?
Half of all clothing and automotive upholstery worldwide is manufactured on a Juki machine.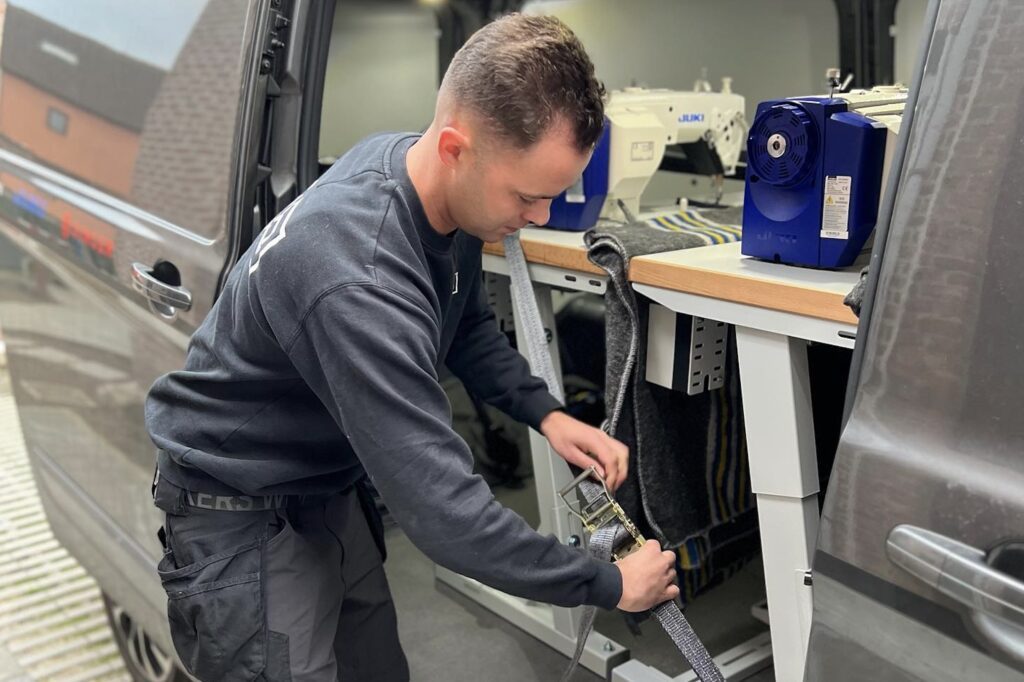 High quality & personal service 📈
Everyone wants to work quickly and efficiently, right?
We do not recommend just any sewing machine, we will look together for the best industrial solution for your sewing workshop!
Due to the high safety and quality requirements, Juki sewing machines are seen as extremely reliable.
The years of experience and knowledge within the company mean that with a Juki machine you achieve the highest quality in the finish of your product.
That is why Juki is one of the largest suppliers for fashion brands such as Lacoste, Zara, Chanel and top brand in the automotive industry!
Discover our showroom in Liedekerke, where all models can be tested.
Why an industrial sewing machine? 🙋‍♂️
Speed
Up to 5 times faster than a household sewing machine.
Sustainability
Industrial sewing machines are designed to run continuously for years and feature automatic oil lubrication.
Automatic functions
Most industrial sewing machines have automatic presser foot lift & thread cutter.
Want to know more? ☕️
We always have a large stock of industrial sewing machines, so we can guarantee the shortest delivery times.
Contact our JUKI sales team for more information.
Or visit our showroom.
The coffee is ready.